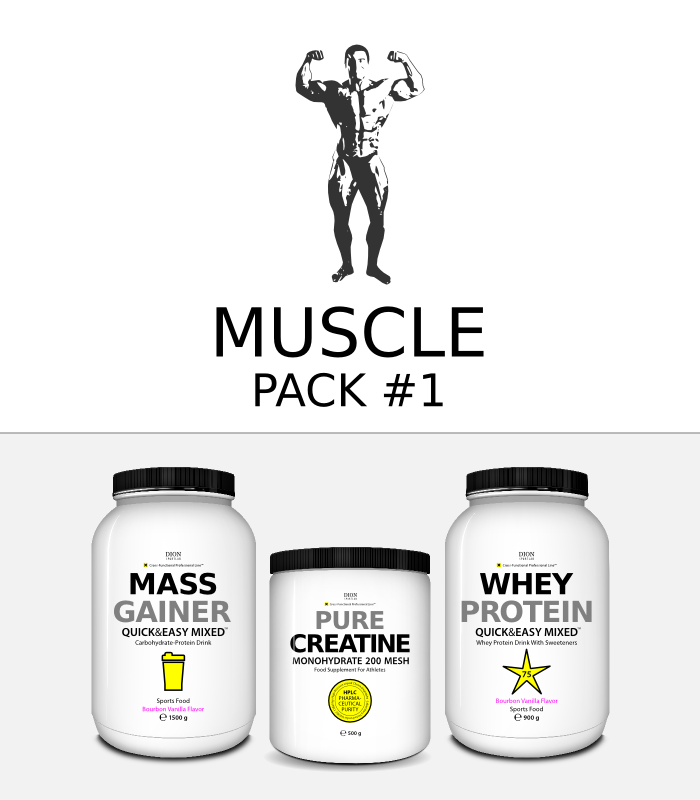 | | | | | |
| --- | --- | --- | --- | --- |
| | | 57.97€ | -25% | 43.49€ |
| | | 57.97€ | -25% | 43.49€ |
| | | 57.97€ | -25% | 43.49€ |
43.49€
1 × MASS-GAINER vanilla 1500g, PURE-CREATINE neutral 500g, WHEY-PROTEIN 900g white chocolate
in stock 9 pcs.
-25% MUSCLE PACK-1
Gainer + Creatine + Whey

MASS-GAINER 1500g
1×

PURE-CREATINE 500g
1×

WHEY-PROTEIN 900g
---
MASS-GAINER: Take
1 individual dose (25-50 g) before training and another 1 dose – at the end of training or 15 minutes after it.
To really enjoy your gainer, mix 25-50 g (1-2 x35ml measuring spoons) of powder with 150-300 ml of cold water, juice or skim milk and thoroughly mix in a shaker for 1 minutes. Vary the amount of liquid to achieve your desired consistency and taste
.
1×